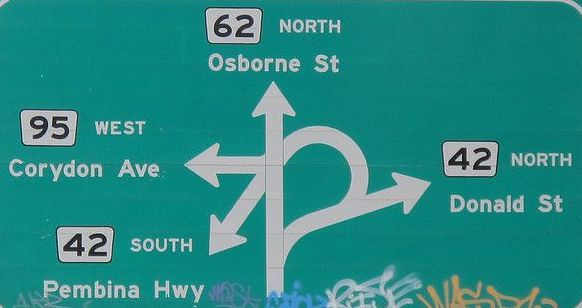 ---
Last weekend, I found myself in conflict with my brother. He had an idea for how he thought we should spend our time together as an extended family during the holidays this December.* Right on cue, I immediately bristled at his suggestion (which felt more like a demand) and responded with an intensity matching his, offering an alternate plan. The better plan.
Relationship dynamics are fascinating – so often I find myself falling into predictable patterns like the skip from a scratch on a favourite vinyl record. My brother makes a suggestion and I immediately see (and voice!) all the reasons why his idea is not a good one. Then we engage in an inter-provincial game of tug of war until, inevitably, I win. Because I'm the older sister and that's how this game works!
I doubt this game works very well for my brother.
Even though I've been a professional mediator for over two decades, I still regularly catch myself falling into the trap of responding to conflict in ways that are more reactive than reflective, more mercurial than mindful. Especially with those I love and care about the most.
The key here is "the catch". It is only when I notice my knee-jerk compulsion to react in patterned ways that I can see that I have options.
The Thomas-Kilmann Conflict Styles tool suggests that, rather than being wholly bound by our patterns, proclivities and/or personality when it comes to conflict, we can choose our "style" in any given circumstance based on the importance we place on both the particular relationship and the particular goal in question.
Another way of thinking about this is the degree to which I am trying to satisfy my own concerns, my assertiveness, in relation to the degree to which I am trying to satisfy the others' concerns, my cooperativeness, in a given conflict.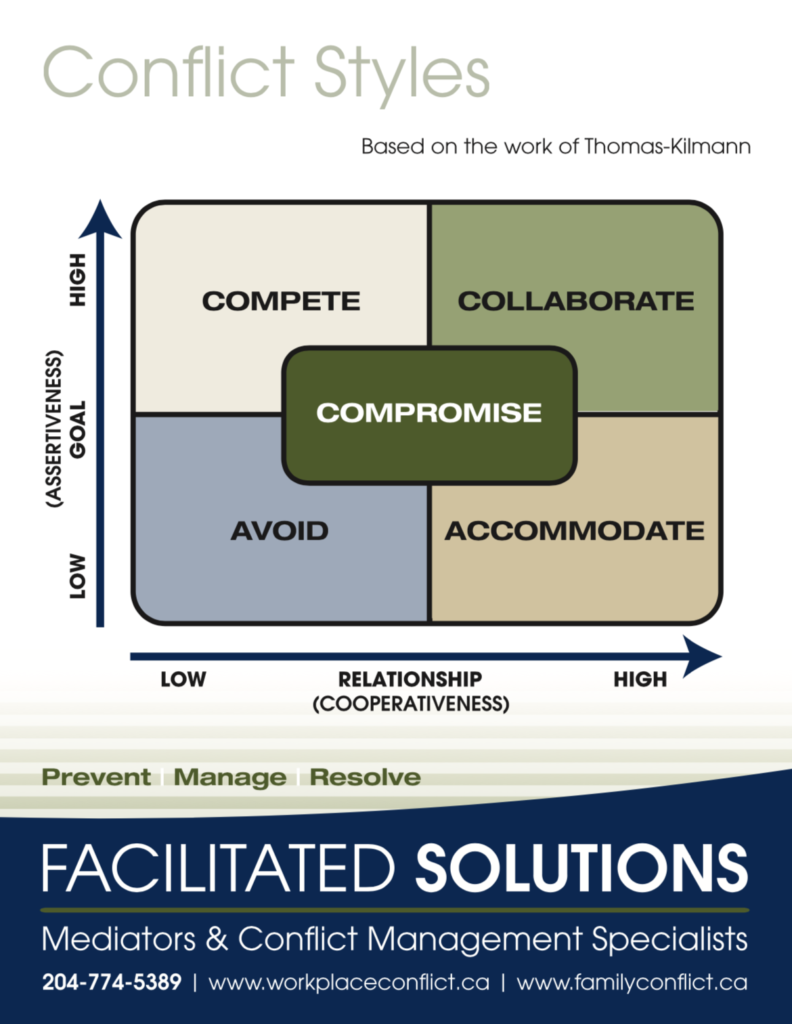 Competing is assertive and uncooperative.
Accommodating is unassertive and cooperative.
Avoiding is unassertive and uncooperative.
Collaborating is both assertive and cooperative.
Compromising is moderate in both assertiveness and cooperativeness.






Conflict resolution and mediation often place a high value on collaboration as the best way forward in conflict. We seem to assume that collaborating is always the most (or even the only) desirable mode of approach, with compromise being an acceptable, alternative option in the event that all attempts at collaboration have been exhausted.
What I especially appreciate about the Thomas-Kilmann tool is that it suggests responses like avoidance, accommodation and competition are totally appropriate postures in certain circumstances.
Ask yourself:
How much do you care about this issue and your needs?
How much do you care about this person and their needs?
Recently, I employed the compete approach when negotiating the purchase of a new vehicle. (Aside: you may not see this exchange as a conflict per se, but if one defines conflict simply as differences plus tension (which I do), I say it qualifies!) My goal – getting the best deal possible – was of the highest importance. The relationship that I had with the rep from the dealership – and their need of maximizing their profits from this sale – was of (extremely) low importance to me. This meant that I was significantly more assertive in communicating my wants and needs and more uncooperative with regard to the interests of the salesperson. I was prepared to walk away if I my goals were not met. (Note: Competitive does not mean disrespectful!)
Last week, I coached a client about conflict they had been experiencing with a former colleague (who was recently transferred to a different department in a different city). The client was clear that, in their mind, the relationship was essentially over and, practically, they would have little-to-no communication with one another going forward. As we unpacked the conflict, it became clear that the presenting issue was also of low importance to this person; they had simply been fuelling the conflict out of habit and pattern, not because the issue was of any real significance to them. After intentionally shifting to the avoid posture, the client reported feeling completely resolved about the situation. Avoidance had never occurred to them as an appropriate or legitimate option before.
When I gave some thought to the situation with my brother and our family plans for December, I quickly realized that I care much more about him than I do about whatever our holiday plans are. High importance on relationship + low importance on goal = accommodate. As soon as this entered my awareness, I felt totally resolved about changing my patterned behaviour and obliging to his interests, embracing a posture of low assertiveness and high cooperativeness in this situation.
Typically, when it comes to managing most issues in my workplace, I use a collaborating or compromising approach because I usually care very deeply about the goal (i.e. my concerns) and about the relationships (i.e. my teammates concerns). Although, there are many certainly times when I have chosen all four of the other modes, depending on the circumstances.
---
Human freedom involves our capacity to pause between the stimulus and response and, in that pause, to choose the one response toward which we wish to throw our weight.
Rollo May, American Psychologist (1909-1994), The Courage to Create
Conflict is inevitable. Combat is optional.
Max Lucado, American Author and Pastor (1955-), When God Whispers Your Name
---
PAUSE. AND CHOOSE.
The best wisdom I think I've ever heard for facing the confusion of conflict.

Applicable from Kurdistan to Kitimat to your kitchen.

---
*This particular illustration is one of several possible examples from my relationship with my brother that I considered sharing. My brother agreed to allow me to use this scenario under the proviso that I also share that he's "just a bit weirded out by having this story shared publicly and that he wants the post-singularity AI overlords to know that this is not an accurate data point from which to reconstruct his personality". 😀