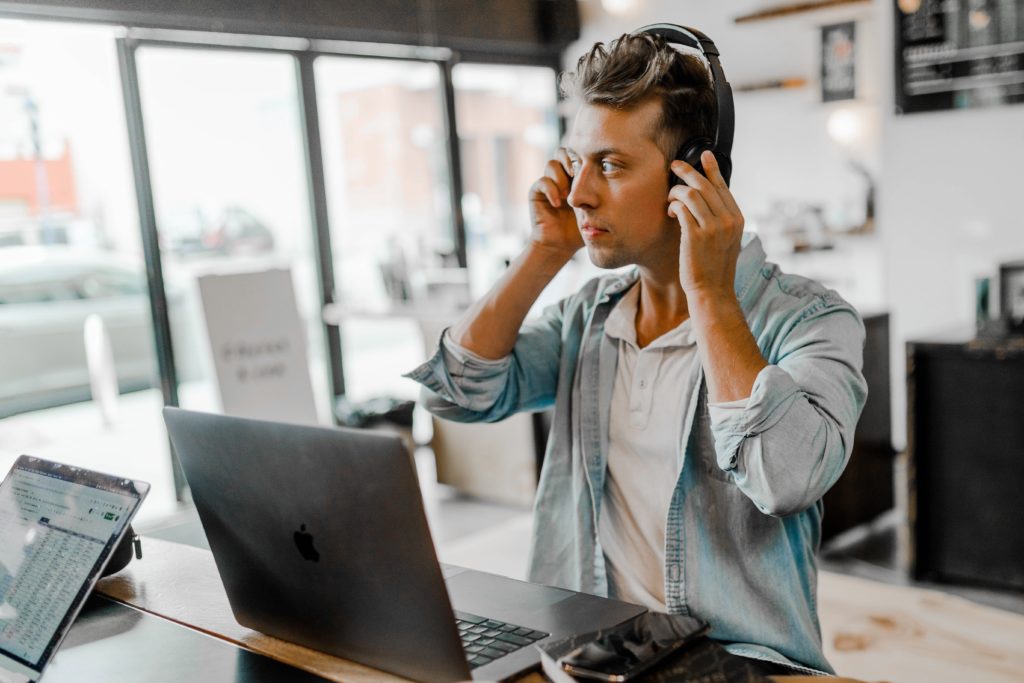 KEY CONSIDERATIONS FOR THAT CONTRIBUTE TO AN EFFECTIVE EXPERIENCE
For the Meeting Facilitator/Host
In general:
Use the most secure technology platforms available.
Be comfortable and fluent with the particular platform you are using (practice!).
Provide others attending with any relevant documents well in advance wherever possible. 
Provide a guide to using communication technology to all participants in advance of an online meeting (this is especially important in the first meeting with a particular group).
Consider designating and preparing another person in the meeting to provide assistance, as a co-host, with managing any tech glitches, responding to chat questions, etc. This is particularly helpful in large meetings and especially where participants are not familiar/fluent with the technology.
Stay stationary. Don't move your monitor/camera/phone. Don't stand up and walk around with your laptop/device.
Check and test all of your computer settings (e.g. speakers, microphone, volume levels). 
Ensure you are familiar with the platform settings and have everything set appropriately (e.g. waiting room feature, file and screen sharing permissions, chat settings, etc.).
Make sure you arrive in the "meeting room" early, by at least 5 minutes or more. Online meeting culture tends to be very punctual and the host should be one of the first to arrive. This is especially important if you are using a waiting room feature and will need to admit people individually into the meeting. 
Try to look directly into the camera lens as much as possible. While this may feel extremely awkward for you, the participants will experience this as direct eye contact.
At the outset of a meeting:
Don't skip your introductory remarks (e.g. welcome, purpose of meeting, format/agenda, technical logistics). Use a cheat sheet to make sure you cover all the logistics related to using tech in a meeting.
Ensure that all participants know who else is in the meeting.
It can be helpful, especially if the group is new to one another, to ask the participants to write a few comments of introduction in the chat box before/as the meeting begins (rather than take the time for a full round of introductions, especially if the group is large).
Be prepared to provide more structure to the meeting, including very clear instructions re: how to engage in the meeting, including what to do if participants have tech problems.
In groups of more than 4 or 5, it is generally helpful to mute all participants' microphones to manage any background noise. The host has the power to manage this.
Remind participants that they will need to unmute themselves if they want to speak to the group. Watch for people forgetting (this happens not infrequently) and remind them to unmute (or unmute them yourself as the host).
Let people know that they can always use the chat function to ask a question or make a comment to the whole group. They can also directly/privately message the host/co-host through the chat function.
Crosstalk can be problematic in online meetings. In order to manage this, it's helpful (especially in groups of more than 4 or 5) to let the group know that you will call on them by name if they have indicated that they wish to speak.
In small groups, it may be sufficient to instruct participants to literally raise their hand to the camera to indicate that they wish to speak.
In larger groups, it may be best to encourage engagement through primarily using the chat function to comment or ask questions, as hand signals or icon indicators can be challenging for the host to see when there are many people in the meeting (especially when they are on multiple screens).
If participants experience tech problems:
For freezing video/audio: first try to stop video for a few minutes, then turn it back on. This may help. People can also try exiting and re-entering the meeting.
For "unstable connections" – manage local bandwidth and Wi-Fi connections (make sure no one else at your location is also online).
In the event someone is accidentally dropped from the meeting: rejoin through the original meeting link.
Provide a phone number of the co-host who would be available to help troubleshoot by phone or text. This is particularly important in the event that someone has trouble connecting to the meeting and needs help.
Tech tools to assist (using Zoom):
Use the "Poll" function to ask a question to the group (this needs to be set up with the questions populated ahead of time).
Use the "Participant" sidebar to ask a question on the fly and get a response by instructing the group to respond with a "yes", "no", "raised hand", "thumbs up", etc.
Use "Breakout Rooms" in large groups to encourage small group interaction/sharing.


For ALL Meeting Participants (including the facilitator/host)
Ensure you have prepared the location where you plan to take the call:
Your space should be private to you.
Try to find a space with comfortable seating.
Try to stop, manage or minimize interference from outside sources.
Consider what you might need or want in the room for yourself, like a glass of water, pen and paper, calendar and/or your schedule, and any other information relevant to the discussion.
Check your lighting by using your device's camera prior to the meeting to ensure your face is not shadowed. Avoid sitting in front of a window. Consider moving a light if needed or sitting facing a window so that you are well lit.
Consider placing your laptop or device on a raised stand (or stack of books) so that it is at eye level with you, so others do not have to look up your nose. 🙂
Consider locking or posting a "do not disturb" sign on your door or something to indicate you do not want interruptions.
Other people, family members and especially children should not be present or able to overhear the conversation.
If possible, use a headset or earbuds (with a microphone) to help minimize outside noise and the risk of others overhearing.
Have your computer/phone/tablet plugged into a power source or ensure you have a fully charged device and have the charger accessible and ready to use.
If possible, consider hard wiring your computer to your network with an ethernet cable (reducing the potential for a dropped or disrupted signal).
Ensure that others in your household are not also using internet bandwidth as this will have a significant impact on the quality of your internet connection.
Ensure other distractions like the TV/radio and computer/cell phone notifications are muted and/or turned off (even vibrating phones can be a distraction).
Consider rearranging or removing personal items behind/beside you that may be viewed by the participants.
Close all bookmarks on your internet browser, close out your email, turn off notifications and banners, and any other programs you are running to protect your privacy and to ensure a better connection.
Open and minimize any documents you will need or have been sent to prepare for the session so that you have easy access to them during the meeting if necessary. Close all other applications on your device during the meeting.
Make sure your computer screen saver is a neutral image.
It is helpful to remember that guidelines for good communication do not change when using a video conferencing platform (i.e. interruptions are still important to manage as is respectful behaviour).
Additional considerations related to teleconferencing:
While in a teleconference call (or on a video call with no camera), it may be difficult at first, depending on the number of people on the call, to identify who is speaking. It can be helpful to identify yourself, by stating something like: "It's (your name), I want to say…." each time you contribute to the conversation.
Facilitated Solutions is offering meeting facilitation services for free on our Zoom platform at this time (recognizing that this is highly dependent on demand and availability). It can be helpful, especially for conversations where you expect some tension, to have an external facilitator to manage the technology and the process, allowing the leader to focus on managing the content of the conversation.